Each year on February 22nd (or close to it), troops around the world celebrate World Thinking Day. While the goal is to have girls in over 100 countries focus on the same idea or theme, many of us here in the US still concentrate on the country representation part.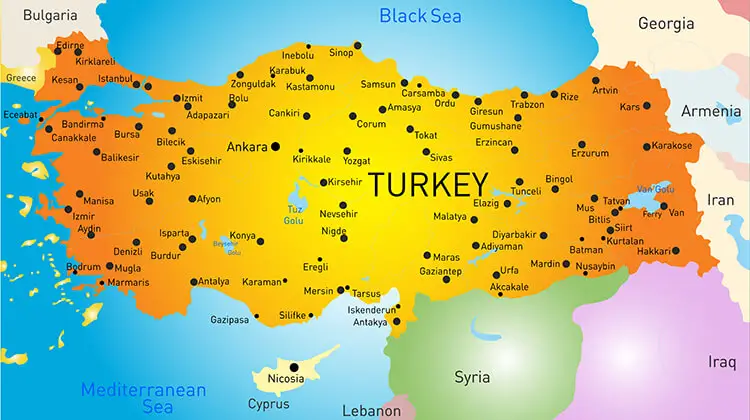 The Juniors in my troop recently celebrated Thinking Day and chose Turkey as their country by one vote. (Runner-up was Korea). Below I've listed a rundown on the different categories and what we did.
Turkey Dress
I always try to incorporate some costume aspect into the presentation because it gets the girls engaged. Naturally, when presented with various Turkish costumer options they overwhelming voted for belly dancing. Now I certainly was not going to let them run around in I Dream of Jeanie costumes, but I was able to find some belly dancing hip scarves on Amazon.
I purchased the lot shown here, and it worked well. I did not need to have a hip scarf for every girl as some would be "traveling" while the others stayed behind as "hosts" and then they could trade out when we switched. This was an easy way to keep costs down.
We watched a few videos during the preparation time and found some music to play as the other girls were entering. The girls loved shaking their hips and beads to the Turkish music!
Food Choices
Food is also an essential part of Thinking Day, and there was a loud call for Turkish Delight. However, there was an equally loud call NOT to do Turkish Delight. I must say I was okay with that as I've always found it a bit bland.
So, after some more research, we agreed on a chicken kebob and some rice pudding. I had one mom pan-cook the chicken with a little bit of oil and then added a dusting of cinnamon when it was finished. I had never had this particular flavor combination before, but it was quite good!
We added some pineapple and apple chunks on the chicken skewers to give it some color. The rice pudding was purchased premade and then portioned into sample cups.
Language and Culture
I always have the girls learn a few phrases. We were pushed for time this year so we only had the opportunity to learn Hello and Goodbye. In Turkish that was pretty simple:
Hello – Merhaba (three syllables with emphasis on the first one)
Goodbye – Gule Gule (pronounced just like you think it would)
As you can imagine I was hearing Gule Gule for weeks after Thinking Day!
We made our standard tri-fold display with pictures of Girl Guides in Turkey and a few major tourist attractions like the Aya Sofia and the biblical town of Ephesus. We also included a large cutout of a map of Turkey as well as a Turkish flag.
Luckily, we had some props to go with our display including a fez and some Turkish money that someone had from a trip years ago.
Turkey Swaps
I always find SWAPs to be the hardest aspect of any Thinking Day celebration and I doubt that I am alone in this. Luckily this one was not too difficult as Michaels had some perfectly-sized evil eyes to use.
We combined this with some red and white pony beads on either side of the evil eye to represent the Turkish flag along with the paper note detailing out troop number, event and date. All in all, six girls were able to make 40 of these in less than 30 minutes.
Our meeting time is about 90 minutes so each level used the first 30 minutes to finish their preparations. I have about 10 Juniors so we divided the work up. Two girls volunteered to assemble the trifold board and other pieces of the presentation. Another girl volunteered to assist in the kitchen with the cooking while the remaining girls got to work on making the SWAPs.
It took us about 40 minutes to get everything ready. As I mentioned before, half of the girls stayed behind as "locals" for the other levels that came to visit. With a little less than an hour left in our meeting time, the girls divided into two groups.
Group A stayed as locals, put on their hip scarves and welcomed the other levels to Turkey. Group B grabbed their passport cards and went to visit the Daisy, Brownie, and Cadette countries. After about 25 minutes we were able to switch the girls with Group B so that Group A was able to travel and visit the other countries.
Conclusion: Turkey is a great choice
I have to say that Turkey was an excellent country for Thinking Day from both a leader and girl perspective. The girls loved the hip scarves and performing for their Girl Scout friends.
As a leader, the SWAP was not too difficult to assemble and didn't require any prework other than the little notes that we attached. Also, the food was not too exotic, so almost all of the girls were willing to try it at least. The skewers also made it very easy to distribute.
The only challenging part was finding photos of accurate Turkish Girl Guides on the internet to use in our display.
I give two thumbs up to Turkey as a Thinking Day country choice. If you have any questions about what my troop did post below and I'll be glad to answer them. Until then, Gule Gule!!