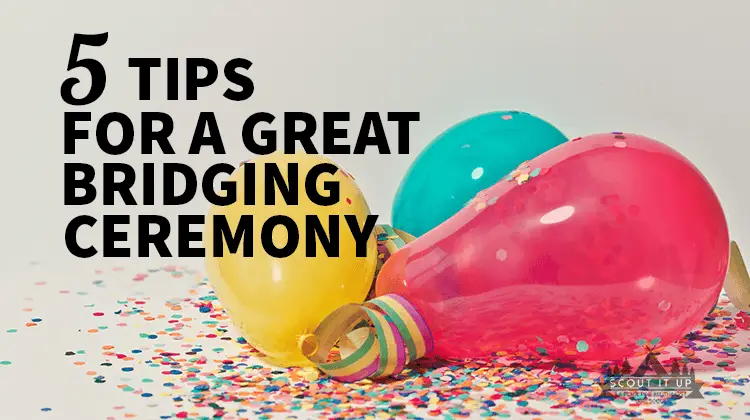 We're closely approaching that time of year when everyone seems to be graduating – college, high school, and even kindergarten. Another group that will be graduating are those girls in your troop who are ready to bridge to the next level.
This can be an extremely stressful period for even the most experienced troop leader. Here are five Dos and Dont's for a great end-of-year troop celebration.
1. You DON'T need a literal bridge.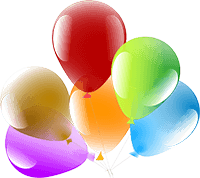 This is probably the one that really causes the most anxiety. I remember crossing a bridge when I moved up Juniors but it's not an absolute requirement. If your troop is new or financially challenged taking on the cost of purchasing a bridge can be ill-advised.
There are lots of ways to simulate a bridge and still provide a memorable experience for your troop.
Use balloons or streamers. My troop has done this several times. You just need to get at least balloons in rainbow colors and attach weights to the balloons.
Make a corridor with either the balloons at the same height or arched by tying the balloons at different heights.
You can also colorful cutouts and past them on the floor along with inspirational words, phrases or quotes.
2. DO include food.
This is a celebration and whether it's a full-fledged dinner or just coffee and cake the girls will appreciate it. My troop actually does a pot-luck with the parents signing up for a side dish or dessert while the troop provides the main course.
If your troop is smaller cupcakes in Girl Scout colors may be the right choice.
3. DO include some sage words
Include some sage words in your script as each level begins their actual physical bridging. You can reference the accomplishments the girls have made at their current level and then expand on the increased opportunities, responsibilities and awards that will be available to them at the next level.
There are lots of sample ceremony scripts online that you can use or modify for your troop.
4. DO give some recognition to your parents or volunteer helpers.
Every troop has at least a few parents, grandparents, etc who help with badges, chauffeur girls to/from events or oversee camping kapers.
Last year our troop gave out a giant lollipop to a mom who volunteered to join the troop leadership team. We called it the "Giant Sucker Award"!
We also awarded a different mom with an industrial size can of bug spray with a giant red bow on it in appreciation of her wasp removal abilities on all our camping trips.
5. And finally, DO include the girls.
I know that it can be difficult to take the time and energy to have the girls contribute to the bridging ceremony but it will be worth it in the end. If you have a younger troop their input may be limited to choosing the design of invitations that the girls make for their parents.
On the other hand, troops at the Cadette level and above can certainly help with the agenda and other specifics of the ceremony. As the troop leader, you will know how best to include your girls so that they will feel a sense of ownership and pride in the ceremony.
---
In the end, don't place undue pressure on yourself to manufacture a once-in-a-lifetime event – the stress is not worth it.
We know that friends and family members are going to be present and we want to produce a meaningful ceremony but at the end of the day, you're celebrating the girls and their accomplishments.
A simple but heartfelt ceremony has the best chance of success. I hope these bridging ideas will help your next ceremony be a memorable one.