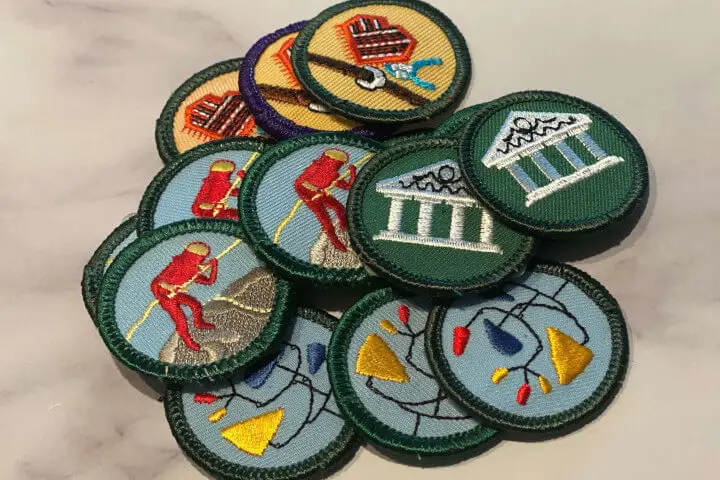 Are you a troop leader wondering what happened to those badges you earned when you were a Junior?
Unfortunately, unless you're a millennial, the badges you earned using the Worlds to Explore handbook have been retired.
But don't worry. You can still find many of these badges around today if you want to introduce them to your troop.
A Short History
Girl Scouts have been earning badges for over a century now. But starting back in 1980, Girl Scouts began creating specific badges for the Junior level and above.
Juniors earned badges while CSAs (Cadette/Senior/Ambassador) earned Interest Projects.
In the first release, there were 76 badges designated for Juniors. After that, additional badges were issued until there were a total of 115 badge-earning opportunities at the Junior level.
That is until the program was phased out in 2011, and then Juniors were left with only about one-fourth of these.
Because of that considerable reduction in the number of available badges, many troop leaders were left scrambling. In addition, girls who had specific interests frequently could not find an appropriate badge beginning in 2011.
That's why the secondary market for these retired badges never died – in fact, it exploded.
The badges were originally grouped into five worlds which were designated by color:
World of Arts – Purple
World of Outdoors – Yellow
World of People – Blue
World of Today and Tomorrow – Orange
World of Well-Being – Red
Earning Retired Junior Badges Today
Retired Junior badges require six steps to complete as opposed to the five necessary today. However, they generally had around 10 suggestions to select from.
If you're looking for the requirements, you can find them in several handbooks from the 1980s and 1990s.
There are the quintessential Worlds to Explore, the Badges & Signs handbook, or the Junior Girl Scout Junior Badgebook. You can often find a version of these on Amazon, eBay, or some Girl Scout Facebook groups.
Believe it or not, it's actually pretty easy to find most of these badges – primarily on Facebook.
Some of the great skill-based badges, such as Ms. Fix-It or Sew Simple, can be difficult to locate. When they do show up, it is generally only 1-2 at a time.
So, I would suggest that if you have plans for some of the more popular badges, you snatch them up whenever you see them.
And don't worry – these badges are official badges, so they can be worn on the front of the vest or sash.
Here is a list of the Junior badges that were retired in 2011.
If the badge is highlighted, you can click through to see the plans that I used when doing the badge with my own troop.
List of Retired Junior Badges
Across Generations
Adventure Sports
Aerospace
Architecture
Art in 3-D
Art in the Home
Art To Wear
Becoming a Teen
Being My Best
Books
Business-Wise
Camera Shots
Camp Together
Car Care
Careers
Caring for Children
Celebrating People
Ceramics and Clay
Choice Is Yours, The
Collecting Hobbies
Communication
Computer Fun
Consumer Power
Cookie Biz
Cookie Connection, The
Court Sports
Creative Solutions
Cyber Girl Scouts
Dance
Discovering Technology
Doing Hobbies
Do-It Yourself
Drawing and Painting
Earth Connections
Eco-Action
Environmental Health
Family Living Skills
Field Sports
Finding Your Way
First Aid
Folk Arts
Food, Fibers & Farming
Food Power
Frosty Fun
Fun and Fit
Girl Scouting Around the World
Girl Scouting in My Future
Girl Scouting in the USA
Global Awareness
Globe-Trotting
Healthier You, A
Healthy Relationships
High on Life
Highway to Health
Hiker
Horse Fan
Horse Rider
Humans and Habitats
It's Important to Me
Jeweler
Lead-On
Let's Get Cooking
Local Lore
Looking Your Best
Making Hobbies
Making It Matter
Making Music
Math Whiz
Model Citizen
Money Sense
Ms. Fix-It
Music Fan
My Community
My Heritage
Now & Then
Oil Up
On My Way
Outdoor Cook
Outdoor Creativity
Outdoor Fun
Outdoors In The City
Pet Care
Plants and Animals
Prints and Graphics
Puzzlers
Ready for Tomorrow
Rocks Rock
Safety First!
Science Discovery
Science in Action
Science in Everyday Life
Science Sleuth
Sew Simple
Sky Search
Small Craft
Sports Sampler
Stress Less
Swimming
Theater
Toymaker
Traveler
United We Stand
Visual Arts
Walking For Fitness
Water Fun
Water Wonders
Weather Watch
Wildlife
Winter Sports
Women's Stories
World in My Community, The
Write All About It
World Neighbors
Yarn and Fabric Arts
Your Outdoor Surroundings
---
Retired Junior badges are an excellent option for new troops because they are generally cheaper than current badges. They are also a super choice for established troops with specific interests and some enthusiastic badge seekers.
The badges may need to be updated given the decades that have passed, but don't let that stop you.
With over 100 badges to choose from, I'm confident you'll find something perfect for your troop!