I got a request to set the record straight on this whole badges versus patches discussion, so I thought I do a post but also throw in a little bit about retired badges and Council's Own badges. So let's get started.
Badges and Patches – What's the difference anyway?
A lot of new leaders (and even some more experienced ones) still struggle with the notion of badges and patches. Contrary to what you may have heard the terms are not interchangeable. The differences are somewhat distinct and pretty easy to understand.
Badges
These are official Girl Scout awards that are earned, i.e., they have specific requirements which must be met. All of the Girl Scout badges from Daisy petals to the octagon-shaped Ambassador level have concrete steps that your scout must complete. With the exception of the petals, these badges have five steps that must be completed successfully before the award is earned. Since it is an earned award, these are placed on the front of the girl's vest or sash.
Patches
Often these are referred to as fun patches because they are given out at fun events that may not meet the full requirements of a badge. There are fun patches for almost anything from firehouse tours to fondue parties. These are placed on the back of the uniform – never on the front.
As someone from my Council said just the other day, uniforms are like mullets: Business in the front and party in the back!
Pretty simple right – but now I'd like to throw a few more terms out there for you. What about retired badges and Council's Owns? Are they official and how do I find them?
Retired Badges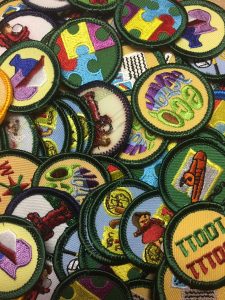 Retired Badges are exactly what they sound like. These are official Girl Scout badges that have been retired and are no longer included in the current girl programming. But, once official always official. So this means that if your troop finds a retired badge – at any level – that you would like to complete, go right ahead.
And once earned feel free to show them off on the front of your uniform. But know this, you may have some difficulty in finding these badges – especially if they were popular. The retired Manners Try-It falls into this category.
If you wanted to find some just for your daughter, it shouldn't be that difficult. If you tried to find 10 or more for your Brownie troop, you would need to be aggressive in your search.
I would also recommend that you have them on hand before you start the badge work. Otherwise, you might have a lot of disappointed girls on your hand.
Council's Own Badges
Council's Own badges are badges specific to a particular council. These are a bit trickier regarding whether they are earned and on which side of the uniform they go.
The majority of these badges were what I would consider supplemental in that they either (a) filled a perceived gap in the official GS training or (b) were region specific in terms of local history, cultural events or unique geographic characteristics.
Examples of the first include archery badges and outdoor skills while the second covers Native American topics or celebrations like Mardi Gras. Unfortunately, a lot of these Council's Own badges have been retired and are extremely difficult to find.
For instance, I have yet to see a Brownie Craft Sampler Try-It ever! If you want to get more information on these wonderful Council's Own badges, I suggest you read up on Ann Robertson's site at www.gscobadge.info. She has requirements for almost all of them, and I still find it an invaluable resource.
Should My Troop Try to Earn Retired Badges?
You might be asking yourself why does anyone care about these retired or Council's Own badges. There are lots of current badges that my troop can focus on! And you would be right – sort of.
There are badges available for girls to work on but a lot of leaders were Girl Scouts in their youth and are disappointed in the quality of the current badge offerings.
When the last program rolled out in 2011 a lot of focus was taken off of progressive skill building and instead reflected an approach that seeded quite frankly to be geared more towards outcome-based funding models.
Also when you consider that badges are now $3 each and most retired badges can be found for less than $2 it can become a financially attractive option as well.
How to Find Retired Badges
But now you're asking yourself where you can find these wonderful retired badges and where can you find the requirements? Let's address the requirements first.
For retired badges, you need to grab a copy of the specific level that you're looking for.
In terms of the actual badges themselves, I find that Facebook is a great resource. You can find them on eBay, but the costs will be very high. Here is a list of several Facebook groups that you can join:
General
https://www.facebook.com/groups/girlscouttreasurehunters/
https://www.facebook.com/groups/badgeswap/
Junior
https://www.facebook.com/groups/175414652630225/
Brownie
https://www.facebook.com/groups/271865442952318/ (Brownie level)
Cadette and above
https://www.facebook.com/groups/1443999042596842/
Council's Own Badges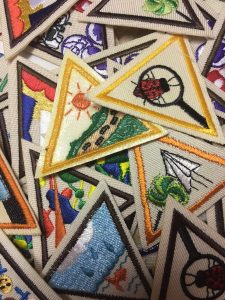 Current Council's Own badges can be found by visiting the specific council. Discontinued Council's Own badges can also be found in some of the groups above – ask if you don't see what you're looking for.
Additionally, there is a Facebook group that does remakes of Council's Own badges, but these would have to be worn on the back of the uniform as they are unofficial remakes. Here is where you can find them:
https://www.facebook.com/groups/350086041805052/
More Tips for Finding Council's Own
And last but not least, if you're feeling brave, you can contact the Council directly if there is a discontinued badge that you're interested in. I'd say that 99% of the time it won't work, but there is always an exception.
I was able to convince a council to let me reproduce a retired Council's Own fishing badge for a Service Unit event my troop was hosting. They sent an email to the original badge manufacturer and approved using the original artwork and materials.
I was so excited, and I wish I had ordered a more extensive run because all the extras were snapped up instantly in the Facebook groups that I listed above.
---
So where does all of this leave you? As you can tell, I'm a big fan of the retired badges and often work them into our troop meetings. They may or may not work for you, but they can at least be an option for you as you're working with your troop to plan the year.
Let me know below if you find any retired or Council's Own badges that your troop falls in love with!