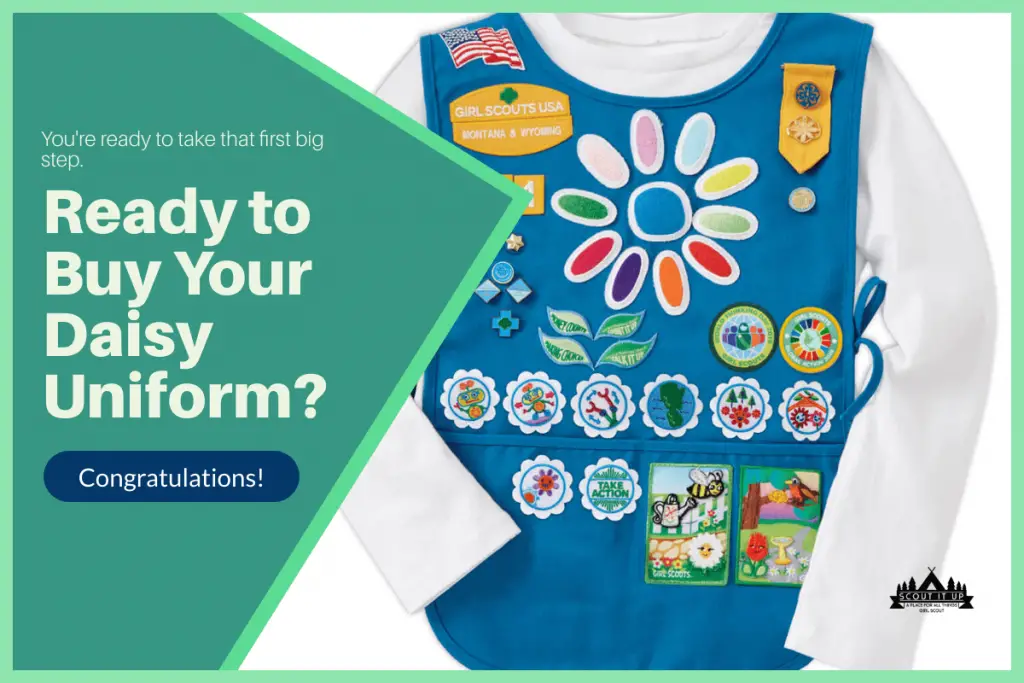 Congratulations! You and your daughter have joined the Girl Scout family and you're ready to take that first big step. Uniforms! But do you get a vest or a sash and where the heck do you place all those badges and patches?
Uniform options
Daisies have two different options for uniforms. There is the standard vest which you've seen on Brownies and Juniors. However, Daisies also have the option to wear a tunic. There is no sash option for these entry-level Girl Scouts.
To round out the uniform, Daisies wear a white shirt and a khaki bottom. If you really want to go all out for your new Girl Scout, you can purchase a matching blue Daisy skirt as well as a blue Daisy beanie.

Most leaders have found parents are reluctant to purchase the blue skirt but everyone generally has a khaki skirt or pants. That is why most pictures of Daisy troops have the girls just wearing a khaki skirt or pant.
However, if you're at a cookie booth or other event though, feel free to show off that beautiful Daisy ensemble.
And if you really want to go all in, Girl Scouts recently introduced an official Daisy scarf and scarf slider. I have to say that the scarf looks pretty cool and can make your girl look official when paired with just the white polo and khaki bottom and no vest.
Now, when my daughter was a Daisy, I opted for the vest. I felt that the tunic just felt a little too "Welcome to Wal-Mart" for me. But if I had to do it over again, I think I would choose the tunic. Not only does it have some pouch pockets (which can be very handy!) but my daughter has been wearing vests in Brownie and above so it would have been nice to have an uniform that was unique to that level.
What Badges Do I Put on the Front of the Daisy Vest?
Insignia
The first things that you will want to purchase are all the insignia items for your Daisy uniform. This includes the flag patch, your council insignia and your troop numbers. You also need to get the insignia tab holder and the WAGGGS and Daisy membership pins. The WAGGGS pin (World Association of Girl Guides and Girl Scouts) will move up with your daughter so you will only need to purchase this one.
A note of caution here – when you're buying the Council ID set, the troop numbers and the insignia tab holder you need to make sure you get the ones for the Daisy level. They are yellow and should be grouped with the other Daisy uniform items online or in the Girl Scout store.
Petals and Badges
The Daisy program is two years long and so you'll have lots of badges and petals to showcase on the front of the Daisy vest. Only official awards and insignia go on the front of the vest. The biggest and most obvious set of awards are the Daisy petals. These petals, along with the blue center, represent the main goal of the Daisy level which is to learn the Girl Scout Promise and the Girl Scout Law.
And then, just like a flower in your garden, below the petal set on the Daisy vest are four financial leaves. Your Daisy earns two of these each year of the program – generally during cookie season.
On the bottom of the vest or tunic is where you often find the large journey patches. There are three journeys at the Daisy level. Whenever your daughter has earned the Welcome to the Daisy Flower Garden, Between Earth and Sky or the 3 Cheers for Animals journey, that journey set is added to the lower section on the front side of the Daisy vest.
Other Earned Awards
For a long time, this was basically everything that a Daisy could earn outside of pins for My Promise, My Faith as well as a Safety Award pin and a Journey Summit pin. There are also cookie pins and membership pins which are generally awarded at the end of each year.
However, over the last several years, more badge-earning opportunities have been given to Daisies including a series of badges around cybersecurity, coding, automobile design, robotics, engineering and outdoor activities.
I'm glad that Girl Scouts expanded the programing for the Daisies. The program with just the petals, leaves and journeys really didn't justify two entire years.
Don't forget – your Daisy also has the opportunity to earn the World Thinking Day badge and The Global Action Award which would also earn a spot on the front of that vest or tunic.
What Goes On the Back of the Daisy Vest?
The back of the Daisy vest (and all Girl Scout uniforms really) is where you place all those wonderful fun patches, cookie patches, fall product patches and any other non-award patches. These are for participation-related events and not for skill-building badges which are placed on the front.
So, if your troop attends a Halloween party it might get you a snazzy fun patch but not an official badge/petal. But don't feel bad – you can show off that cute patch on the back of your vest.
And remember, there's no particular structure for placing fun patches so organize however you would like!
Sew-on or Iron Badges/Patches
A lot of the badges/patches that your Daisy will receive over her time at this level are going to have easy iron-on adhesives. However, some of the badges will require you to sew them on. (And honestly, some of the iron-on patches will need a stitch or two I've found).
If you're hesitant to break out the needle and thread, there are some adhesive backs that you can buy that are specifically for Girl Scout badges. The one we have used is Badge Magic. It has level specific pages which have pre-cut adhesive shapes that will fit the petals, badges and insignia. You can also buy a general sheet to cut out shapes specific to any non-standard patches you may have.
So, again congrats on joining our great big Girl Scout family. There's no reason to be overwhelmed with your first uniform purchase. Hopefully this will just be the first of many Girl Scout uniforms for you and your daughter.